Sudoku Menu: a delicious serving for your brain!
About this website
The mission of sudoku.menu is to create a niche where everyone can learn and play easily and entertain in a reasonable and intelligent way.
First version of sudoku.menu started on 20.6.2005 at sudoku.wz.cz in Czech language, and moved to SudokuOnline.cz in 2007.
The English version sudoku.menu was started in July 2014 during my stay in the US.
Support Sudoku Menu
Icon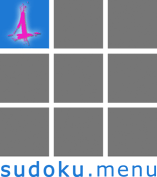 HTML code:
<a href="http://sudoku.menu/" title="sudoku menu"><img src="http://sudoku.menu/img/logo_menu.gif" alt="sudoku"></a>
Link
sudoku.menu
HTML code:
<a href="http://sudoku.menu/" title="sudoku"><strong>sudoku</strong>.menu</a>
Logo
Logo sudoku.menu [PDF, 940kB]
Contact